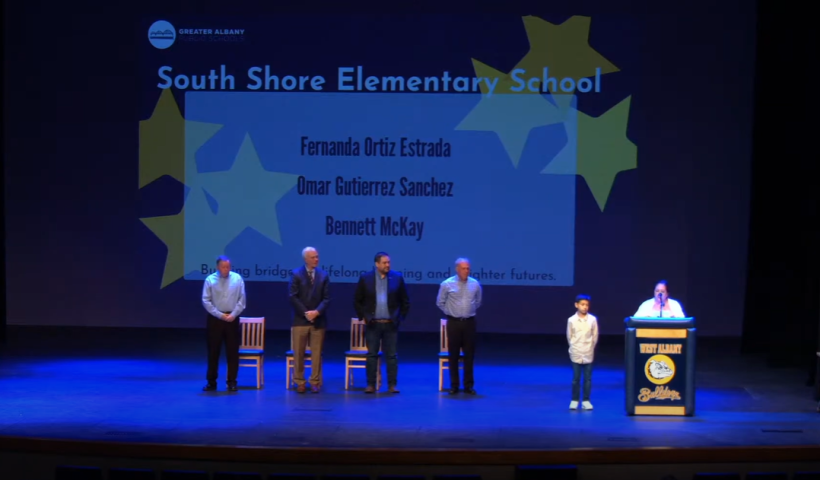 Community All Star Awards May 2023
On Monday, May 8, the district recognized 57 students who regularly display excellent moral character. The awards were presented to 3-12 grade students by their principals, Superintendent Andy Gardner, and the GAPS School Board. The ceremony was streamed live and can be viewed on YouTube. 
Individual winners are listed below:
Central / Takena Elementary
Principal Julia Bradley
Paisley Mask
Judah Trujillo
Abbey Estes
Joe Martinez
Lafayette Elementary
Principal Elisa Stephens
Grace Goodwin
Brynn Lee
Jordan Murphy
Liberty Elementary
Principal Jodi Dodd
Nissa Lozada
Mara Rose

Meadow Ridge Elementary
Principal Sunshine Price
Sloane Duke
Layton John Fitzpatrick
Emerysn Hadley Rudometkin
North Albany Elementary
Principal Kilee Sowa
Bryce Dearman
Mackenzie Thompson

Oak Elementary
Principal Jana Pierce
Emmett Jolly
Aariyah Paden
Nola Dickson
Oak Grove Elementary
Principal Sue Turner
Lauren Henthorne
Anne Hurst
Eli Bromagem
Periwinkle Elementary
Principal Chaundra Smith
Carly Johnson
Yaretzy Mendoza Padilla
Violet Helvey 
South Shore Elementary
Principal Marcia Beltran
Fernanda Ortiz Estrada
Omar Gutierrez Sanchez 
Bennett McKay
Sunrise Elementary
Interim Principal Chaundra Smith
Lucy Whitt 
Samuel Martinez Ramirez
Ana Velasco Mendez
Tangent Elementary
Principal Gretchen Carter
Jackson Brown
Jack Krause

Waverly Elementary
Interim Principal Tabatha Cornelson 
Jasper Johnson
Roberto Zepeda

Calapooia Middle
Principal Tristan Heisley
Juan Aguirre
Kasumi Zuleta Morgan
Isaac Armengolt
Memorial Middle
Principal Ken Gilbert
Sage Boyd
Logan Whitley
Ezekial Zahlmann
North Albany Middle
Principal Stephanne Seals
Quincey Langworthy
Brennan Weis
Lilyanne Gange
Timber Ridge
Principal Jodi Dedera
Renee Danner
Jaida Brown
Madison Wilson
Olha Polishchuk
Chase Fulleton
Albany Options
Principal Mark Hannan
Greyson Lunceford 
Jedidiah Lopez Goodenough

South Albany High
Principal John Hunter
Brianna Mendenhall
Klaire Bitter
Brayden McKay
Norah DeYoung
West Albany High
Principal Susie Orsborn
Savannah Lodge
Omar Moreno-Uribe
Claire Fief
Jordan Stadstad
---
Premios de comunidad "All Star" de mayo 2023
El lunes 8 de mayo, el distrito reconoció a 57 estudiantes que regularmente demuestran un excelente carácter moral. Los directores, el Superintendente Andy Gardner y la Mesa Directiva Escolar de GAPS entregaron los premios a los estudiantes en los grados 3 a 12.
La ceremonia se transmitió en vivo y se puede ver en YouTube.
Los ganadores individuales se enumeran a continuación:
Primaria Central / Takena 
Directora Julia Bradley
Paisley Mask
Judah Trujillo
Abbey Estes
Joe Martinez
Primaria Lafayette
Directora Elisa Stephens
Grace Goodwin
Brynn Lee
Jordan Murphy
Primaria Liberty
Directora Jodi Dodd
Nissa Lozada
Mara Rose

Primaria Meadow Ridge 
Directora Sunshine Price
Sloane Duke
Layton John Fitzpatrick
Emerysn Hadley Rudometkin
Primaria North Albany 
Directora Kilee Sowa
Bryce Dearman
Mackenzie Thompson

Primaria Oak 
Directora Jana Pierce
Emmett Jolly
Aariyah Paden
Nola Dickson
Primaria Oak Grove 
Directora Sue Turner
Lauren Henthorne
Anne Hurst
Eli Bromagem
Primaria Periwinkle
Directora Katelyn Lindsey
Carly Johnson
Yaretzy Mendoza Padilla
Violet Helvey 
Primaria South Shore 
Directora Marcia Beltran
Fernanda Ortiz Estrada
Omar Gutierrez Sanchez 
Bennett McKay
Primaria Sunrise
Directora interina Chaundra Smith
Lucy Whitt 
Samuel Martinez Ramirez
Ana Velasco Mendez
Primaria Tangent 
Directora Gretchen Carter
Jackson Brown
Jack Krause

Primaria Waverly 
Directora interina Tabatha Cornelson 
Jasper Johnson
Roberto Zepeda

Secundaria Calapooia 
Director Tristan Heisley
Juan Aguirre
Kasumi Zuleta Morgan
Isaac Armengolt
Secundaria Memorial
Director Ken Gilbert
Sage Boyd
Logan Whitley
Ezekial Zahlmann
Secundaria North Albany
Directora Stephanne Seals
Quincey Langworthy
Brennan Weis
Lilyanne Gange
Escuela  Timber Ridge
Directora Jodi Dedera
Renee Danner
Jaida Brown
Madison Wilson
Olha Polishchuk
Chase Fulleton
Escuela Albany Options
Director Mark Hannan
Greyson Lunceford 
Jedidiah Lopez Goodenough

Preparatoria South Albany
Director John Hunter
Brianna Mendenhall
Klaire Bitter
Brayden McKay
Norah DeYoung
Preparatoria West Albany
Directora Susie Orsborn
Savannah Lodge
Omar Moreno-Uribe
Claire Fief
Jordan Stadstad
---