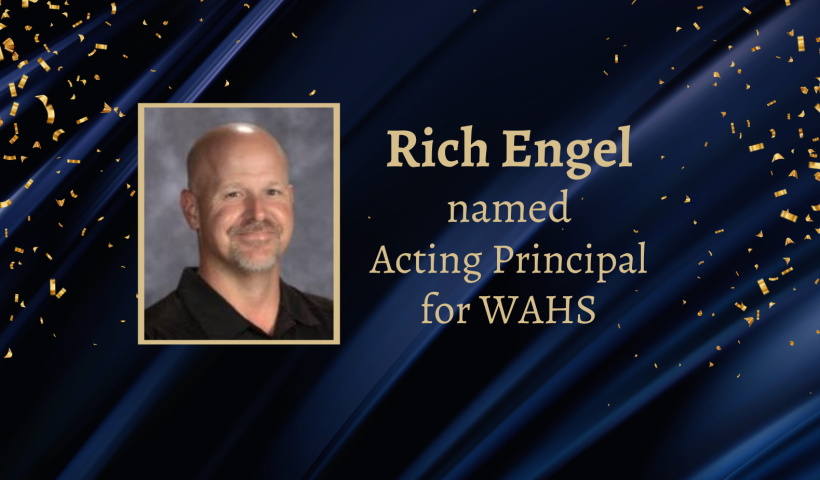 Superintendent Andy Gardner is proud to announce Rich Engel has been named Acting Principal of West Albany High School for the 2023-24 school year.
"I have supreme confidence Rich will be an outstanding leader for West Albany High School," said Superintendent Andy Gardner. "To have an administrator of his caliber in the building, and who is already trusted by staff, I trust this school will not miss a beat."
Engel has served as an Assistant Principal at West Albany since 2012. He has also served as the school's Athletic Director (2010-2016), Dean of Students (2009-2012), and as a Special Education Teacher at the school from 2005-2010. While most of his career has been invested in GAPS, Engel has also worked as the Head Football Coach at nearby Jefferson High School and as an Attendance Officer for Linn-Benton-Lincoln ESD.
"I am incredibly honored to have the opportunity to serve as the Acting Principal of West Albany High School. I have been so fortunate to work here for the past 19 years under Susie's amazing mentorship, guidance and friendship," Engel said. Susie Orsborn, former Principal of West Albany High School, was recently named the Executive Director of Human Resources for the school district.
"She has developed a climate and culture which makes this such a special place for students, staff, parents and community members," he added. "We have an absolutely amazing and dedicated staff that will continue to promote our mission and vision to provide the best possible experience for each and every student at West Albany High School.
In 2018, Engel earned the Coalition of Oregon School Administrators Assistant Principal of the Year award. He has served in several roles with the Oregon School Activities Association including as a member of the OSAA Delegate Assembly (2018-2022); OSAA State Championship Committee (2018-2022); and is currently a member of the OSAA Eligibility Appeals Board.
Engel is a lifelong Oregonian, raised in the mid-Willamette Valley. He has his Bachelor of Science in Public Policy and Administration from Western Oregon University, and his Master's in Education also from Western. He also earned his education administrative licensure through Portland State University.
His service to the school district is a family trait. His wife, Chris, has worked for GAPS since 2000 and is currently serving as a secretary in the Office of Special Programs. His daughter is a Spanish teacher and his son-in-law is a math teacher, both for GAPS. Engel also has two grandchildren and a son who serves in the U.S. Navy.