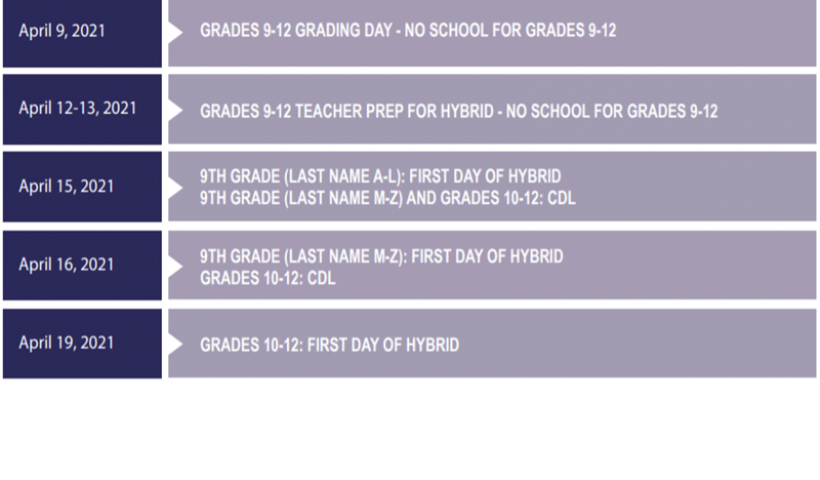 On Monday night the Greater Albany Public Schools Board unanimously voted to approve an updated calendar that will accelerate the return of grade 3-8 students to in-person hybrid learning. 
There has been no change to the High School Hybrid timeline.
The biggest changes include students in grades 3-5 beginning hybrid learning on Tuesday, March 30 and middle school students returning April 5th (grade 6) and 6th (grades 7 & 8). Middle school students will be starting in-person hybrid nearly two weeks earlier than had been scheduled. 
The first day of hybrid in-person learning will remain on Monday, March 29, following spring break, for grades K-2 as well as Albany Options School. The timeline for South and West Albany High School students also remains as scheduled, aligned with the start of the fourth quarter, as construction at WAHS will not be completed for occupancy until April 13.
Please note: All families who wish to keep their children in Comprehensive Distance Learning (CDL) will still be able to do so. 
GAPS must continue to follow all Ready Schools, Safe Learners safety guidelines as we return to in-person learning. 
Updated Calendars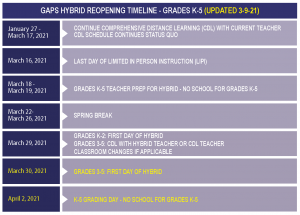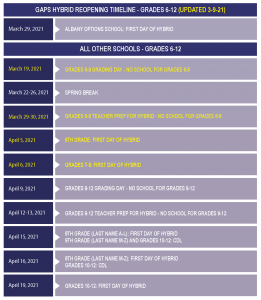 ---
Spanish Translation
El lunes por la noche, la Mesa Directiva de GAPS votó unánimemente para aprobar un calendario actualizado que acelerará el regreso de los estudiantes de 3º – 8º grado al aprendizaje híbrido en persona.
Los mayores cambios incluyen que los estudiantes de 3º – 5º grado comiencen el aprendizaje híbrido el martes 30 de marzo y los estudiantes de la escuela secundaria que regresen el 5 de abril (6º grado) y el 6 de abril (7º y 8º grado). Los estudiantes de la escuela secundaria comenzarán el aprendizaje híbrido en persona casi dos semanas antes de lo programado.
El primer día de aprendizaje híbrido en persona seguirá siendo el lunes 29 de marzo, después de las vacaciones de primavera, para K-2º grado, así como para la preparatoria Albany Options School. El cronograma para los estudiantes de las preparatorias South y West Albany High School también se mantiene según lo programado, alineado con el inicio del cuarto trimestre, ya que la construcción en WAHS no se completará para su ocupación hasta el 13 de abril.
Tenga en cuenta que: Todas las familias que deseen mantener a sus hijos en el aprendizaje integral a distancia (CDL por sus siglas en inglés) aún podrán hacerlo.
GAPS continuará siguiendo todas las normas de seguridad de "Ready Schools, Safe Learners" (Escuelas Preparadas, Estudiantes Seguros) a medida que regresemos al aprendizaje en persona.
Calendarios actualizados: