The Albany Optimist Club recognized 21 Greater Albany Public Schools students at its annual Youth Appreciation event on Tuesday night at Linn-Benton Community College (LBCC).
Three students from each of the three GAPS high schools and four middle schools received commendations from the Optimist Club. The winners were selected by school personnel recognizing students who excel in the areas of Leadership in Academics, Community Service, Citizenship and Church Activities. The students each received a framed certificate of achievement and a $50 bill.
Principals or other school personnel presented awards to their students while describing their individual accomplishments. Oregon State Senator Sara Gelser, LBCC president Dr. Greg Hamann, and Albany Optimist member and Albany City Councilman Alex Johnson II also spoke at the event with Albany Optimist member Sharon Hammond serving as the Master of Ceremonies.
Individual winners are listed below.
---
Spanish Translation
El Club Albany Optimist Club reconoció a 21 estudiantes de las Escuelas Públicas de Greater Albany en su evento anual de Apreciación Juvenil el martes por la noche en el colegio superior Linn-Benton Community College (LBCC).
Tres estudiantes de cada una de las tres escuelas preparatorias y cuatro escuelas secundarias de GAPS recibieron elogios del Club Optimist. Los ganadores fueron seleccionados por el personal de la escuela que reconoce a los estudiantes que se destacan en las áreas de Liderazgo Académico, Servicio a la Comunidad, Civismo y Actividades de la Iglesia. Cada uno de los estudiantes recibió un certificado de logro enmarcado y un billete de $ 50.
Los directores u otro personal escolar presentaron premios a sus estudiantes mientras describían sus logros individuales. La senadora del Estado de Oregón, Sara Gelser, el presidente de LBCC, Dr. Greg Hamann, y el miembro del Club Albany Optimist y el concejal de la ciudad de Albany, Alex Johnson II, también hablaron en el evento con la Maestra de Ceremonias de Sharon Hammond, miembro de Albany Optimist.
Los ganadores individuales se enumeran a continuación.
Albany Options School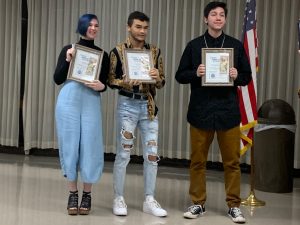 L-R: Gemini Soules, Charles Clay, George Llamas-Meza
South Albany High School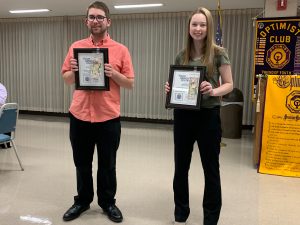 L-R: Jacob Thompson, Sariah Young. Not pictured: Faith DeVyldere
West Albany High School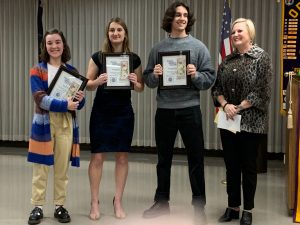 L-R: Madeleine Getz, Bethany Marteeny, Channon Schuerger, Principal Susie Orsborn 
Calapooia Middle School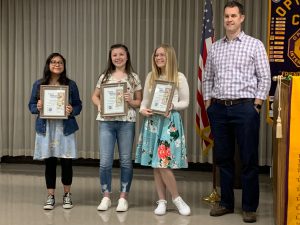 L-R: Kaylina Hernandez, Hadlee Nicholson, Payton Cramer, Principal Tristan Heisley
Memorial Middle School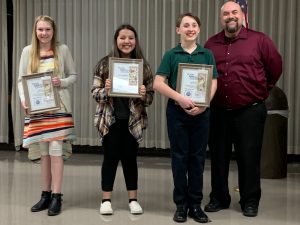 L-R: Anika Ylen, Diana Villalobos-Alvarez, Porter Rose, Principal Ken Gilbert
North Albany Middle School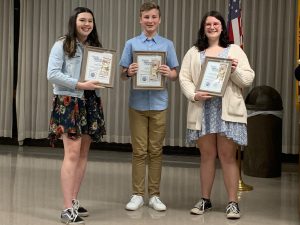 L-R: Emily Conners, Lincoln Tidwell, Gretchen Morgenstern
Timber Ridge School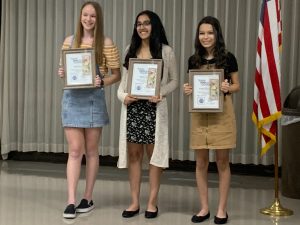 L-R: Hailey Yencopal, Natalie Lezama, Jennifer Perez-Garibay