This past Friday and Saturday, SWARM packed up our robot, Lobster and headed off to the Oregon State Fairgrounds to compete against 27 other teams in our second regional event. The team spent the last two weeks hardening our robot and improving our intake.
We had no significant mechanical issues at the event which allowed us to focus on executing our gameplan. The students did an amazing job coordinating with their various alliance partners to develop match strategies. We made a lot of friends and competed to the best of our ability.
The competition at this event was stronger than our Wilsonville event. The random scheduling program assigning teams to qualification matches gave us a very tough road to travel. At the end of qualification matches we ended up ranked 14th with 6 wins and 6 losses.
During alliance selection, our friends, team 997 the Spartans from Corvallis high school picked us as the first team member on the number 6 alliance. We then added team 4057 Klamath Basin Robotics – STEAMPUNK from Klamath Falls and prepared for our quarter finals matches against the number 3 alliance. The number 3 alliance consisted of captain, team 7034 2B Determined from West Linn, 4488 Shockwave from Hillsboro and our friends team 1359, the Scalawags from Lebanon. Their alliance was very capable and defeated us 2 to 0 in good matches.
Here is a picture of the drive team after our last quarter final match. Note that our driver Miles is wearing a Scalawags pirate hat. Even though they were our competitors, FIRST emphasizes gracious professionalism. We are friends with the Scalawags and the drive team happily wore one of their hats in the quarter finals while competing against them.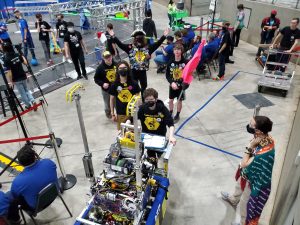 We all had a lot of fun at the event and feel like the competition went very well for us. Our performance at the two regional events has placed us right on the border of qualifying for PNW Championships. We will not know if we qualify or not until Monday April 4th.
Thank you again for supporting our team!
Robin Hobbensiefken
Team 957 SWARM Lead Mentor
SWARM Team 957
FIRST Robotics
http://team957.com
https://www.facebook.com/frcteam957