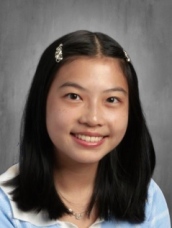 January 11, 2022, Washington, D.C. —The United States Senate Youth Program (USSYP) announces that high school students Ms. Caroline Xingyan Gao and Ms. Alejandra Lopez Nestor will join Senator Ron Wyden and Senator Jeff Merkley in representing Oregon during the 60th annual USSYP Washington Week, to be held March 6-9, 2022. Caroline Gao of Albany and Alejandra Lopez Nestor of Warrenton were selected from among the state's top student leaders to be part of the 104 national student delegation who will each also receive a $10,000 college scholarship for undergraduate study.
Caroline Gao, a junior at West Albany High School, serves as the vice president of the Associated Student Body. As the founder and executive director of The World in Us, a nonprofit aimed at eliminating cultural ignorance through youth-for-youth education, she has worked with over 180 students from eleven countries. She also co-founded Aster Lit, an international literary magazine highlighting the voice of young writers around the world. Within Oregon, she has interned with political advocacy organizations like Next Up and the Asian Pacific American Network of Oregon, advocated for financial literacy education policy as a Willamette Valley legislative fellow, and is actively involved in Youth and Government. In addition to studying Korean abroad through the National Security Language Initiative for Youth scholarship, Caroline has participated in national-level civic leadership programs such as Citizen University and Civics Unplugged. She also researches socioeconomic-inclusive technology design under Oregon State University's Dr. Margaret Burnett. Caroline also enjoys playing the flute and writing.
Congratulations, Caroline! We are so proud of you!
Read the full press release below:
11 de enero del 2022, Washington, D.C. — El Programa Juvenil del Senado de los Estados Unidos (USSYP por sus siglas en inglés) La USSYP anuncia que las estudiantes de preparatoria, la Srta. Caroline Xingyan Gao y la Srta. Alejandra Lopez Nestor, se unirán al Senador Ron Wyden y al Senador Jeff Merkley, para representar a Oregón durante la 60.ª Semana anual de USSYP en Washington, que se llevará a cabo del 6 al 9 de marzo de 2022. Caroline Gao de Albany y Alejandra López Néstor de Warrenton fueron seleccionadas entre los principales líderes estudiantiles del Estado para formar parte de la delegación estudiantil nacional de 104, quienes también recibirán una beca universitaria de $10,000 para estudios de pregrado.
Caroline Gao, estudiante de tercer año en la preparatoria West Albany High School, se desempeña como vicepresidenta del Cuerpo Estudiantil Asociado. Como fundadora y directora ejecutiva de "The World in Us" (El mundo en nosotros), una organización sin fines de lucro destinada a eliminar la ignorancia cultural a través de la educación de jóvenes para jóvenes, ha trabajado con más de 180 estudiantes de once países. También cofundó "Aster Lit", una revista literaria internacional que destaca la voz de jóvenes escritores de todo el mundo. Dentro de Oregón, hizo una pasantía en organizaciones de defensa política como "Next Up" y "Asian Pacific American Network of Oregon", abogó por la política de educación financiera como becaria legislativa de Willamette Valley y participa activamente en Juventud y Gobierno. Además de estudiar coreano en el extranjero a través de la beca Iniciativa del lenguaje de seguridad nacional para jóvenes, Caroline ha participado en programas de liderazgo cívico a nivel nacional como "Citizen University" y "Civics Unplugged". También investiga el diseño de tecnología socioeconómica inclusiva bajo la dirección de la Dra. Margaret Burnett de la Universidad Estatal de Oregón. Caroline también disfruta tocar la flauta y escribir.
Lea el comunicado de prensa completo arriba.