3rd Quarter Textbook Pick Up and RETURN
We are asking Freshman English students to please come to West Albany anytime between 8:00-3:30pm February 1st through February 3rd to pick up the novel Ender's Game, as well as textbooks or supplies for any of the 3rd quarter classes listed below. You can also return textbooks and supplies — see list below.
If you are unable to come in prior to Thursday, February 4th, please email your Freshman English teacher.
Monday-Friday FEBRUARY 8th-12th
8:00-3:30pm PARK AND WALK TO MAIN ENTRANCE OF SCHOOL
If you have the following classes for 3rd quarter, you need to come PICK UP TEXTBOOKS OR SUPPLIES:
* Freshman English * Lifelong Fitness * Senior English
* Freshman AVID * Junior English * Senior AVID
* Sophomore English * American Studies * AP Literature
* Sophomore AVID * Film & Literature * Advanced Financial Algebra
* Drawing * Pottery-(pick up kits at garage door of pottery room)
*MATH = Graph paper available, if needed
*ART & BAND = Supplies available, if needed
Please RETURN the following textbooks or supplies ASAP:
* LIFELONG FITNESS * POTTERY & BASIC DESIGN KITS
* INTRO TO CRIMINAL JUSTICE * DRAMA I
* ADVANCED FINANCIAL ALGEBRA * CHOIR FOLDERS & MUSIC
2019-20 West Albany yearbooks have arrived!
You may pick up 2019-20 yearbooks during Semester 2 Textbook Pick Up, February 8-12th. If you are unsure whether or not you purchased a yearbook, call the office at 541-967-4545.
If you would like to purchase a yearbook, please bring $70 cash or a check made out to WAHS. NO credit cards.
3rd Quarter Schedules
Students will be able to see their 3rd Quarter schedule in CANVAS or in PIV by TUESDAY, FEBRUARY 2ND.
WAHS‌ ‌CLASS‌ ‌SCHEDULE‌ ‌for‌ ‌2020-2021‌ ‌‌(Monday-Tuesday‌ ‌and‌ ‌Thursday-Friday)‌
BELL SCHEDULE WILL REMAIN THE SAME FOR 3RD QUARTER
‌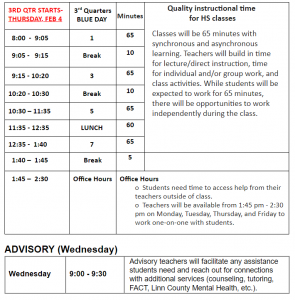 Please contact your student's counselor regarding scheduling questions or concerns.
Counselors‌ ‌by‌ ‌Class:‌‌
Freshmen:‌ ‌‌ Ryan.Graham@albany.k12.or.us‌
Sophomores:‌ ‌ A-L‌ ‌‌ Ryan.Graham@albany.k12.or.us‌‌ ‌
M-Z‌ ‌‌ Casey.Sheets@albany.k12.or.us‌ ‌
Juniors:‌ ‌‌Casey.Sheets@albany.k12.or.us‌ ‌
Seniors:‌ ‌‌Jan.Rasmussen@albany.k12.or.us‌ ‌
Semester 1 (1st & 2nd Quarter) Grades
Semester 1 (1st & 2nd Quarter) grades will be mailed home soon. Please be sure to email Tara Thompson (tara.thompson@albany.k12.or.us) if you have had an address change. You can check in PIV to see what we have on file in the DEMOGRAPHICS section.
SENIORS: Transcripts will be included in this mailing. Please review your transcript to make sure your extracurricular activities and grades are listed correctly. Please contact your counselor with any questions.
Use this link to make any changes to your extracurricular activities and/or world language information.
2021 Class Election Timeline
Jan 27th Announcement made through Advisory classes
Jan 28th Information and Links to Candidacy Applications available on WA Website
Feb 8th Deadline for Applications
Feb 12th Deadline for Video Speeches
Feb 17th Speeches/Voting – Advisory Class Ballot emailed to students (Google Form)
Contact Erik Ihde if you have any questions.